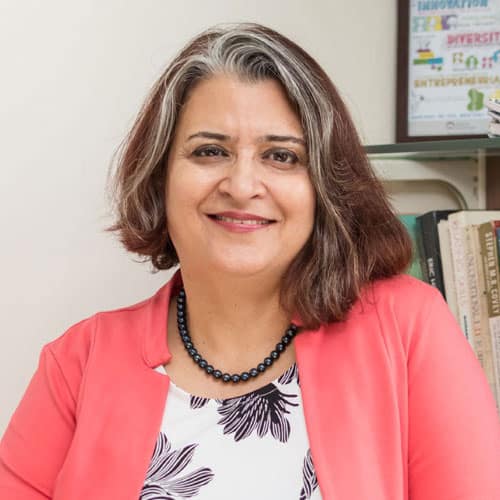 "Coaching is a transformational process for both the coachee and the coach. The path of transformation and learning are never-ending and coaching accelerates your journey on this path"
Top Talent • Women Leadership

Master CERTIFIED Coach (ICF)
Meet Anu Wakhlu, the vibrant and zestful co-founder and chairperson of Pragati Leadership, instrumental in launching CoachMantraTM, which is an exclusive brand focused on offering Coaching solutions to organizations.
Anu belongs to the elite Master Certified Coach (MCC) group of the International Coach Federation (ICF). With over 2500 hours of coaching experience under her belt, Anu is much sought after by CEOs and CXOs of large organisations for her individualistic approach.
She is a strong believer in the 'power of women' at the workplace and is acknowledged as a stellar Executive coach for senior leaders in the industry. Anu inspires women leaders and top talent to discover their purpose and vision as leaders.
In her repertoire, created over a period of 15 years, she has coached diverse sections of industry and various organizations, like Tata BP Solar, Siemens, Harman, Deepak Fertilizers, Sudarshan, Principal Global, Capgemini, Forbes Marshall, HiTech Biosciences among others.
Connects with the participants to enable them to open up and lead to the path of reflection and change. Keeping the focus on the client's needs first and foremost. Willingness to grow herself as an individual, during the process of coaching.
Author of the book Time and Life Management, Co-founder and Chairperson of Pragati Leadership, Executive Director of Pragati Foundation, Ashoka Fellow and working on projects related to Women's Health, Capacity Building of NGOs and Creating partnerships between Corporates and NGOs.
Best known for 'making things happen' through her patience and perseverance. – that is Anu for you. Anu is the National President (India) for Soroptimist International, an organization dedicated to the growth and empowerment of Women worldwide. Anu loves sketching and painting and when not training and coaching, she loves being close to nature, gardening, reading, and spending time with her pet dog Zorba.
Anu started coaching because she found that classroom facilitation was often too generic to bring about significant individual change. In her experience, people respond better when you are working with their challenges and aspirations and this is what the coaching process provides.
What makes Anu stand out as a coach particularly is her ability to challenge assumptions of the client as well as her ability to build practices that enable her clients to sustain those transformative changes long after the coaching assignment is over.
Listen in to what Anu has to say​