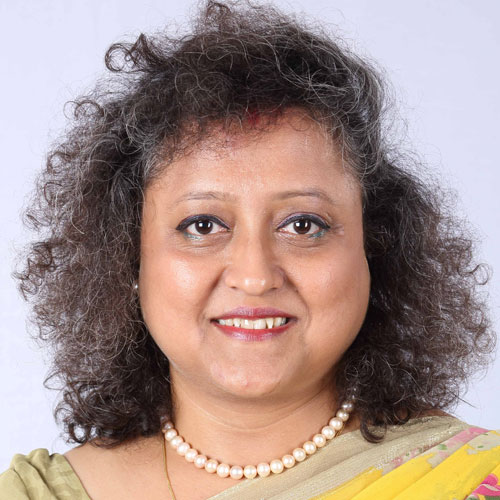 "I like to think of the potential of coaching in terms of a few words by William Shakespeare: We know what we are, but we may not know what we may be."
Top Talent • Women Leadership

Professional CERTIFIED Coach (ICF)
Shampi started coaching because of her strong belief in the innate strengths that everyone has. She loves coaching because she can help leaders discover their potential and set them on a journey of self-discovery and self-mastery.
She describes her personal passion for coaching in the following words:
"Being a coach is a very gratifying experience, especially when my clients learn the science and art of Reflections and Results, using the processes observed during the coaching engagement…that's when I feel that I have enabled a life skill, with a much longer shelf life than the coaching objective. As for me, it is a spiritual experience.
When I coach, the coaching skills that I practice of active listening, being non-judgmental, and intent focus on the 'Who' and what of the coachee, all the while building trust and intimacy; helps me to grow as a leader and is transformational. The goodwill and gratitude that I earn from my coaching clients fill my universe with positivity and warmth."
Cross-functional extensive and intensive experience in business operations, large-scale team management, and people development
Shampi is known for creating high performance teams through inspirational leadership and has been a strong practitioner of on – the – job mentoring and coaching.
She exudes positivity, gravitas, and an interesting combination of energy and serenity at the same time. She has led large, diverse, and distributed teams and always inspired them to deliver high performance. She totally believes in leveraging the strengths of the people she works with and focuses on the positive aspects of everything since she lives by the mantra — 'what you focus on expands'.
Her personal and professional life has been an exemplary example of defining life's moments and operating in circles of control and influence. Shampi believes that ownership & accountability, hard work and willingness to learn and innovate are the top 5 ingredients for success. She is also an active blogger on LinkedIn.
What makes Shampi stand out as a coach: Her ability to connect, empathize, engage and inspire. She can easily relate to the business situations of her coachees due to her own vast experience in cross-functional business operations and people management. Having been a high performer herself, her fundamental philosophy of self-belief and excellence comes through in her conversations. Finally, her passion for bringing out the best in each individual, makes her stand out.
Here is what a couple of Shampi's clients have to say
"I truly enjoyed every coaching and mentoring session with Shampi and am extremely thankful for her patience and undivided attention all along.The conducive atmosphere created at the beginning of our coaching journey fostered an environment of trust and transparency and allowed me to lay bare all my thoughts and fears in an uninhibited manner. … What I liked best was that she was completely non-judgmental and allowed me time, space and complete freedom to work out all the complex and unresolved thoughts and ideas on my own. I believe there is far greater learning when one does this. Last but not the least her enthusiasm and verve is very infectious and inspiring and I can unashamedly claim that I shall emulate that to the fullest going forward."
– Yasmin Riaz, National Deputy Director, SOS Villages India
"Shampi is an excellent coach & mentor. She acts as a friend & guide. She is very methodical; practices patience & active listening. She has been always asking me open questions that make me think deeper. In the last 4 months, I have discovered new aspects in me as a professional. Her guidance and coaching intervention is set to be a big catalyst in achieving my career ambitions."
– Chief of Manufacturing and Supply Chain, erstwhile Lafarge India