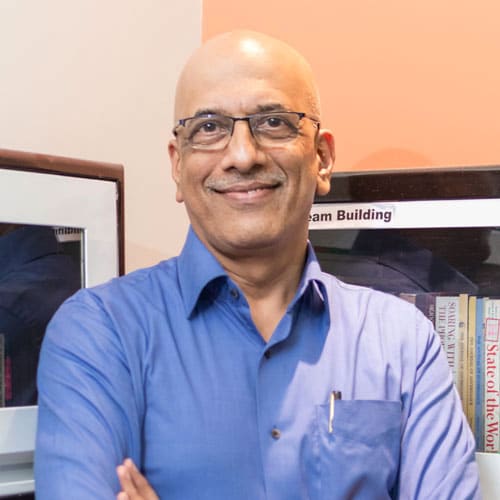 "Coaching helps leaders discover their true potential."
Top Talent • Senior Leadership
Vibhas is adept at facilitating Organizational Change & Transformation and Leadership Development programs for senior and top management levels.
Vibhas started coaching because he found that the process of coaching gave him an opportunity to partner with leaders and help them to discover their true potential.
Vibhas is a very positive personality and is able to build relationships with people across age-groups and across different cultures.
Sports and being with nature are his passions. Being in the midst of green trees and listening to the chirpy birds brings a great solace to his heart. And playing games like badminton or cricket gives him excitement and joy that he has always cherished.
He believes in the strength of mind and the goodness of heart. Integrity and respect to all are key parts of his value system. He specializes in facilitating workshops for evolving Strategies aligned to the Vision and Business objectives.
For the last 15 years of his corporate career, he has held Directorial and Board positions at companies he worked for. He has made significant contributions in the areas of Business planning, streamlining of business operations and in People initiatives related to Performance Management, Competency frameworks and Learning and Development.
What makes Vibhas stand out as a coach is his extremely magnetic persona, diverse experience in the corporate world, and rich experience as a facilitator.